home | repertoire | biography | beginnings | opera | theatre | diary | management | email | The Enchanted Pig | vocal coaching & teaching
Someone has kindly posted a clip of John singing the aria 'Largo al Factotum' from the Glyndebourne production of 'Il Barbiere di Siviglia' on YouTube
Please click here and take a look!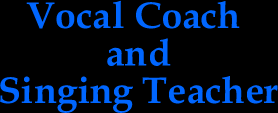 As you are no doubt aware from visiting my web-site, over the years I have accumulated a huge amount of knowledge and experience in both the world of opera and musical theatre and I now feel I am in a position to pass on this knowledge to the next generation of young singers - especially young baritones who might wish to sing the Italian repertoire.
Although, I feel I can help any young singer towards an understanding of the bel canto style and technique, including building a character by using the text along with advice on stagecraft and concert platform behaviour in order to enhance their communication skills with an audience.

The English Song is a medium I have always loved, especially the songs of Ivor Gurney, George Butterworth, John Ireland, Michael Head, Gerald Finzi and Ralph Vaughan Williams.
I am able to help young singers appreciate and understand the poetry, and thereby improve the vocal line through the use of the text.


I teach in my own home at 110c Ifield Road, London SW10 9AF.
Please telephone for an appointment on +44 (0) 207 244 0059 or via my mobile +44 (0) 777 55 10 600. I can also be emailed from this web-site.

back to top


home | repertoire | biography | beginnings | opera | theatre | diary | management | email | The Enchanted Pig | vocal coaching & teaching
website: john rawnsley
site design: BonaVista

©John Rawnsley