home | repertoire | diary | biography | opera | theatre | management | email | The Enchanted Pig | vocal coaching & teaching


'The Enchanted Pig'
with music and lyrics
by Jonathan Dove and Alasdair Middleton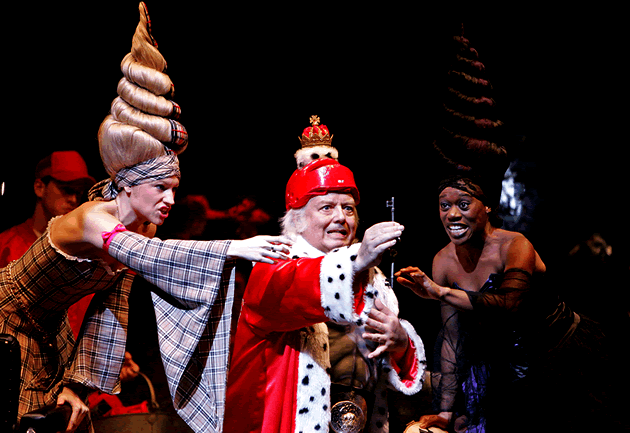 King Hildebrand with his daughters, Princess Mab and Princess Dot
photograph by Keith Pattison
Cast:
King Hildebrand/Mr Northwind: John Rawnsley
Mab/Adelaide: Kate Chapman
Dot/Day: Akiya Henry
Flora: Caryl Hughes/Anna Dennis
Book of Fate/Mrs Northwind/Old Woman: Nuala Willis
King of the East/The Moon: Joshua Dallas
King of the West/Sun: Delroy Atkinson
The Pig: Rodney Clarke/Byron Watson
Director: John Fulljames
Designer: Dick Bird
Lighting: Paul Anderson
Movement: Philippe Giraudeau
The Daily Mail

'The Enchanted Pig'

Bringing home the bacon..!
by Quentin Letts

Some parents, hearing 'Enchanted Pig', might mistake this ambitious children's show from the Young Vic for a coochy-coo, Disney-style musical with easy songs and CBeebies-level porkers grunting happily in a farmyard setting.
This would be a mistake. It is a pretty seriously sung work of opera.
On the night I went, there were plenty of children — some as young as four — who sat through its two-and-a-quarter hours and enjoyed it.
But this one is not for children with a short attention span, high on Coke and Christmas fever. It is probably not for parents with MTV or easy-listening tastes, either.
The Enchanted Pig deserves audiences who are prepared to work a little. They will find it pays off, for there are some magical touches and fine music.
The moral is utterly seasonal: that love conquers all, even if your sweetheart was born in a pigsty (or manger).
Flora is the youngest of three girls, just like Cinderella, or Cordelia. The other two do well for themselves but poor Flora (Caryl Hughes) finds she has been married off to a pig.
"My husband, he's a pig," she wails. Whereupon an apparently kindly old woman says: "Most husbands are." Oink oink!
This being a fairy tale, the pig (Rodney Clarke) turns out to be a handsome man as soon as Flora has been kind to it.
But things go wrong again. Flora is tricked by the old woman, who is in fact a witch, and has to go on a quest.
She meets the Moon and the Sun and travels to the Milky Way before she finally rescues her beau from evil's clutches.
The Young Vic has been expertly rebuilt and anyone who saw its relaunch show, a community opera called Tobias And The Angel, will be delighted to know that the composer of that show, Jonathan Dove, has also written the music for The Enchanted Pig. Mr Dove is, I think, a genius.
There are a few lavatorial jokes and some rolling in mud, but generally the story aims high.
Miss Hughes gives it full warble and Mr Clarke also unleashes a proper opera-trained voice.
I'm not sure how my under-tens would have coped with this, but lots of the kiddywinks on Wednesday night did fine, their attention buoyed by a series of visual props.

These include a talking book, a Sun with outrageously tight, shiny hotpants and a giant wedding cake.
One highlight has Flora visiting the North Wind (John Rawnsley) and his wife (Nuala Willis), who bicker like mad but are devoted to one another. "I love the way her false teeth clack," says Mr North Wind. To which his wife croons: "I love his really hairy back." This is sung with great wit by both of them.
Alasdair Middleton's words are clever and never trite. My only grumble is that he seems to think that pigs have 'paws' (hooves, surely).
Oh, and in its audience quiz the programme uses kilometres instead of miles. But I am prepared to overlook even that atrocity.
The Enchanted Pig may have a slightly misleading title, but it has great merit and is energetically performed by a small, charming cast.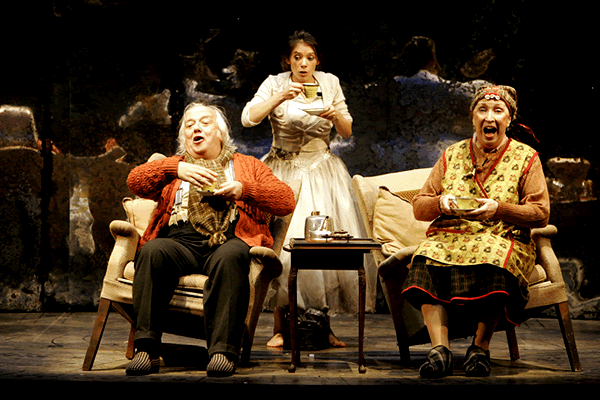 Princess Flora with Mr and Mrs Northwind
photograph by Keith Pattison
The Guardian
'The Enchanted Pig'

Young Vic, London
by Michael Billington
Friday December 15, 2006

I don't see the word emblazoned on the programme, but the Young Vic's Christmas show is an opera in all but name. Don't, however, let that deter anyone from taking the children. Reuniting many of the team that brought us Tobias and the Angel, this is a show that proves opera, at its best, is a source of magic and enchantment.

The librettist, Alasdair Middleton, has raided the fairy-tale catalogue, drawing on Romanian, Norwegian and classical sources. He starts with King Hildebrand and his three daughters, the youngest of whom, Flora, is fated to be married to a pig. Undeterred by the fact that her mate is under a spell that makes him a swine by day and a swain by night, Flora falls in love with him and, when he is abducted by a wicked old woman, she goes in ardent galactic pursuit of him, aided by the sun, moon and north wind.

At various times, the story nods in the direction of Beauty and the Beast, Bluebeard, The Golden Ass and King Lear. But, even if the final quest is a little protracted, the story is bound together by the charm of Middleton's lyrics and Jonathan Dove's score. Announcing that her husband is a pig, Flora is tartly informed by the old woman that "most husbands are". But such cynicism is offset by a number delivered by Mr and Mrs Northwind who look like a fractious pair until they jointly sing: "I love the curlers in her hair, I love his filthy underwear." At this point Dove's score, which has echoes of Sondheim and Weill, suddenly acquires a panto jauntiness.

As with Tobias and the Angel, John Fulljames's production makes extensive use of the space. Caryl Hughes's single-minded, and very well sung Flora flies through the air like a more appealing version of Mary Poppins. Rodney Clarke's Pig makes his first scarifying entrance in the stalls before turning out to be a gent in porcine clothing. John Rawnsley, Jonathan Miller's original Rigoletto, pops up in various melodic guises, including a boxing-gloved Hildebrand and a flat-capped Northwind. And Nuala Wllis is a tower of strength as the Book of Fate, a wicked witch and the Nora Batty-like Mrs Northwind.
But the real success of the show, designed by Dick Bird, is its combination of realism and romance. As they delightfully sing in the final chorus, "Love gives you blisters, love leaves you blind. Love is the rarest jewel you can find."



Three Princesses and The Book of Fate
photographed by Keith Pattison
'The Enchanted Pig' at the Young Vic
Saturday 16 December 2006 - londonSE1 community website
Leigh Hatts

The Enchanted Pig, a Young Vic and Opera Group co-production, is without doubt an enchanting show.
With the nearby Old Vic's popular pantomime missing a year it is good to have the Young Vic open again and staging a Christmas production in its own tradition and easily up to its usual standard.
The energenic and dextorous cast of eight tell a story based on a Romanian folk tale of lucky and unlucky princesses. The words are by Alasdair Middleton and the music is by Jonathan Dove who wrote opera Tobias and the Angel which relaunched the theatre earlier this year.
Rodney Clarke, who appeared in Tobias and the Angel, plays the difficult lead role of the Pig. Princess Flora, the one drawing the short straw but of course triumphing in the end, is played charmingly by Caryl Hughes who has appeared at the Purcell Room.
Delroy Atkinson and Akiya Henry as Sun and Day made the audience gasp. A double act by veterans John Rawnsley and Nuala Willis as Mr and Mrs North Wind is another well-received humerous highlight. Kate Chapman also raised laughs with her spoilt bride performance.
The importance of the set is often forgotten and here Nick Bird has devised one which is of course simple but very clever and effective.
There are good tunes, flying, loud noise, glitter, mud and several other pantomime stunts. This is not a show for very young children but it is still a family opera perfect for the theatre's intimate space.

The King of the West and Adelaide
photographed by Keith Pattison

What's on Stage Review - 15th December 2006

'The Enchanted Pig' (London & Newcastle)
By Michael Coveney.

It has become a cliché to say that the freshest, most original seasonal shows emanate from the Young Vic, but the boring thing about this cliché is that it is incontrovertibly true. The new box of delights is a through-sung opera with music by Jonathan Dove and lyrics by Alasdair Middleton based on ancient Romanian and Norwegian folk tales with their origins in the myth of Cupid and Psyche.
Put like that, The Enchanted Pig may sound off-putting. It is the very opposite: simple to follow, delightful to behold and easy on the ear, the show re-casts the Beauty and the Beast fable in the story of a beautiful princess who is ordered by Fate to marry "a fat pig from the North" (no, he's nothing like Wayne Rooney) and discovers her true love.
Flora, like Cordelia in King Lear, is the youngest of three daughters whose father, King Hildebrand is about to go to war. He forbids them to enter a locked room; naturally, they do so and discover their destinies. Much of the excitement in Dove's score comes from the girls' mixture of anticipation and fear, tinged with romantic naughtiness. They wear mini-skirts and cream cone hairstyles. They all embark on a journey from the palace to the pigsty and the darkest corners of the universe.
When Flora meets her pig, he promptly disappears after ordering her to wear out three iron pairs of shoes as she searches the world for him. So the mood of a pantomime is mixed with a classic quest, and John Fulljames's production takes us through countryside, night skies, palaces, muddy fields, and the house of the North Wind, where the resident married couple have a duet: "I love the curlers in her hair/I love his filthy underwear/I love the way he never knows/When he's got bogies up his nose."

Before arriving at the slaves' kitchen where the wedding is prepared, Flora encounters the snow geese, the moon and the clouds, as the world comes alive in readiness for the magical day. Best of all, perhaps, is the way quite sophisticated music – echoes abound of Sondheim and Janacek - is made to sound naturally sensual in the singing of a really top notch cast, such a marked contrast with the amateurish singing in the RSC's new Merry Wives musical at Stratford-upon-Avon.
John Rawnsley is a rubicund, lyrical King, while Glyndebourne and Covent Garden veteran Nuala Willis doubles as a book of Fate and Mrs North Wind. Rodney Clarke is the king turned prince, with a gorgeous snout, fleshy ears and a penchant for rolling in mud that commends him, of course, to every child in the audience. They all sing beautifully, as do Mab and Dot (Kate Chapman and Akiya Henry), Flora's sisters. Flora herself is enchantingly played and sung by Caryl Hughes (sharing the role with Anna Dennis), and the musical supervision is by Stuart Stratford.
The Young Vic is a perfect auditorium for such a show, where the small band (including harp and trombone) sits easily within Dick Bird's fluid, non-picturesque design and the expert lighting of Paul Anderson. This really is a treat for all the family and a sensible alternative, if you want one, to the traditional pantomime.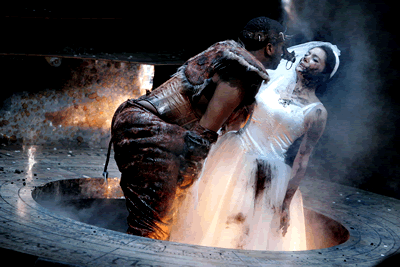 The Pig with Princess Flora
photograph by Keith Pattison



'The Enchanted Pig'
music by Jonathan Dove words by Alasdair Middleton
by Geoff Ambler - ReviewsGate -14th December 2006
Posted by : Geoff on Dec 17, 2006 - 10:05 PM London
London/Tour
The Young Vic does it again!
This must be among the classiest of this year's seasonal offerings, a show which never fails in its relentless drive to entertain a house, full of all ages. Never before have I laughed so much at an operatic performance than during The Enchanted Pig.
The story, based on a Romanian folk tale, revolves around Flora the youngest princess of the King who, when her sisters discover they are to wed the Kings of the East and the West, discovers that she is fated to wed a pig. Shortly after the wedding and subsequent discovery that the Pig is actually a cursed King, Flora is tricked into losing her new husband and has to make an epic journey, wearing down three pairs of iron-soled shoes before she can find him.
The two lead parts of The Pig and Flora are each shared by two performers working on alternate nights, undoubtedly due to the extensive vocal demands the parts place on the performers. One Flora at least, Caryl Hughes, is a captivating delight throughout and magnificently capable of both the dramatic and comedic elements her role encompasses. Startlingly beautiful and overflowing with energy and operatic brilliance, hughes is a masterful casting decision.
Rodney Clarke's fantastic Pig is attired in an inventive and edgy suit, more fetish wart-hog than pig, all leather and hair complete with ringed snout. Both he and Flora wallow in mud, he as a pig, she, a bride resplendent in white, much to the delight of the younger audience.
The rest of the cast share a number of characters between them and the pairing of John Rawnsley and Nuala Willis as North Wind and Mrs North Wind, two of the friends Flora meets on her journey, is an exceptional piece of theatre.
The simple staging allows the cast to weave through the Young Vic auditorium and Flora's flights on wires, around the theatre and over the audience, pit the power of the velcro on her cumbersome footwear against potential litigation for falling shoe damage.
Time and time again this year, the Off-West End theatres have excelled by taking risks and producing some of the finest London theatre, when their richer and larger cousins have frequently only been mediocre. In The Enchanted Pig the Young Vic has continued this trend and enhanced its well established reputation for excellence and for being refreshingly and audaciously different.


Planet Hugill - Classical music blog
Opera Review

'The Enchanted Pig'
by Robert Hugill
Sunday, January 07, 2007
The Young Vic's 2006 Christmas Show was The Enchanted Pig, a musical tale by Jonathan Dove and Alasdair Middleton. In some ways, a rather daring enterprise as the theatre had re-opened with Dove's community opera Tobias and the Angel. Dove and Middleton do not bill their new piece as an opera, but it is through composed – not spoken dialogue, and half the cast are opera singers.
It is written to be accessible to family audiences. Dove's musical style is essentially tuneful and lyrical but he is not content with just finding a tune, the many melodies in the piece are combined in various ways to produce wonderful ensembles. Whilst the musical style might not be entirely to the taste of the many children that were there when we saw the piece on Friday, it certainly did not put them off and they enjoyed it immensely.
Dove's music is reminiscent of Sondheim, Into the Woods is obviously an influence as regards plot and music. But Dove creates more melodic melodies and modifies the sharpness of Sondheim's music.
The plot concerns the young Princess Flora (Caryl Hughes) and her two sisters (Kate Chapman and Akiya Henry). When their father King Hildebrand (veteran opera singer John Rawnsley) goes to war they disobey his orders and read the book of Fate, played by another veteran opera singer Nuala Willis. What they read must come to pass so the 2 elder sisters marry kings (Joshua Dallas and Delroy Atkinson) and Flora must marry a pig (Byron Watson). When the pig takes her home, Flora warms towards him and this partially breaks the spell that is on him so that at night he turns back into a handsome man. The pig says that Flora must have patience and trust him but she is impatient and with the help of an old lady (Nuala Willis again) she tries to cure the pig. But the old lady is the witch that enslaved the pig and Flora's impatience has meant that he is now fully enslaved and is taken away to marry the old lady's daughter (Kate Chapman).
To win her pig/husband back Flora must travel the world and wear out 3 pairs of iron shoes. This she does, on the way meeting various people who teach her the different meanings of love.
First Mr and Mrs North Wind (John Rawnsley and Nuala Willis) hilariously played as gruff Northerners who explain, in an infectiously to-tapping number, that despite their manner they still love each other.
Then the Moon (Joshua Dallas) for whom love is mysterious and he never meets the one he loves (presumably the Earth). And finally the Sun and his girlfriend Day (Delroy Anderson, wearing only a pair of sparkly swimming trunks, and Akiya Henry) who are carefree young lovers.
With these people's help she finds her pig/husband and breaks the spell. This part was perhaps the weakest as Flora has 3 days to do it in, before the wedding. And she has 3 gifts (from the North Winds, the Moon and the Sun) to help her. So basically we get the same material 3 times, each repeat shortened and varied, enlivened by the wedding preparations.
By the end of the opera Flora and her husband have learned the virtues of patience and endurance and learned about the many varieties of love. All told within the context of a story which was accessible and enjoyable to both adults and children. A considerable achievement for Dove, Middleton and their hard working cast.
It was lovely to see Rawnsley and Willis again, they both contributed a considerable amount of theatrical experience to the production and also seemed to be having a good time. In fact, the whole cast did.
As can be seen from the above, apart from Caryl Hughes and Byron Watson all the cast played multiple roles and when not playing a role, sang in the chorus. Hughes and Watson coped brilliantly with their long, taxing parts and there wasn't a weak link. No amplification was used, but both actors and opera singers balanced each other very well and conveyed the drama very well. Diction was pretty good and with the help of James Fulljames's imaginative production, I don't think that anyone could have difficulty understanding what was going on.
Dick Bird had designed basic set which used the whole theatre, meaning that the production (including Flora's flying through the air) happened in and around the audience a truly magical thing for everyone, but especially the children.
Dove had imaginatively scored the piece for a 5-piece band accordian (occasionally doubling piano), harp, percussion, trombone, cello and double bass. The results were magical and enchanting and at no point did the musical accompaniment feel undernourished; in fact I was amazed at the ravishing sounds that Dove had conjured. The band was directed from the accordian (now that's a first) by either Ian Watson or Edward Hessian.
This was a magical evening for us and for the many, many children in the audience. It is the sort of piece that more people should be doing, something that is not just children's theatre but enables the whole family to appreciate real, unamplified, sophisticated musical theatre.
The show is only on till the end of January but then it goes on tour.
The Moon, with Sun and Day
photographed by Keith Pattison


home | repertoire | diary | biography | opera | theatre | management | email | The Enchanted Pig | vocal coaching & teaching
website: john rawnsley
site design: BonaVista
©John Rawnsley